Hey,
I've just updated Fufi Widgets for Xaseco2 (Canyon).
Download
V2.06:
http://www.tdracer.de/xaseco/download.p ... .v2.06.zip
Installation
Important!
If you don't follow the steps carefully, the plugin will not be working properly.
Unzip the archive into the XASECO2 folder
Insert the following line into "plugins.xml" (after all other plugins)

Code: Select all

<plugin>plugin.fufi.widgets.php</plugin>

Configure some stuff if you like to (see configuration section below)
Done! Have fun!
Changelog
v2.06 - 06.12.2011

recommended
Enabled Dedimania in Config Files. I hope there are no Bugs, but atm i've no time to test this in detail - Please report Bugs to me!
Changed Files:

fufi_widgets_config.xml
plugins/plugin.fufi.widgets.php
plugins/fufi/fufi_widgets_xaseco.xml
v2.05 - 16.10.2011
v2.04beta - 21.09.2011
Fixed Live Rankings Bug in Rounds Mode (thanks »Ť¤¥«~ET~)
v2.03beta - 16.09.2011
Fixed Widgets Positions in score screen.
Edited Style to match default Xaseco Panelbg.
v2.02beta - 06.09.2011
The style was edited in order that it doesn't look to much like fox control.
Implemented an automatic update check when a MasterAdmin joins (Disabled by default, set <checkupdate> to true in fufi_widgets_config.xml)
Some Screenshots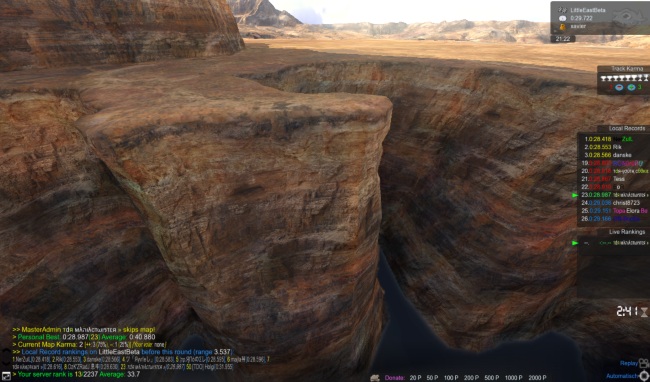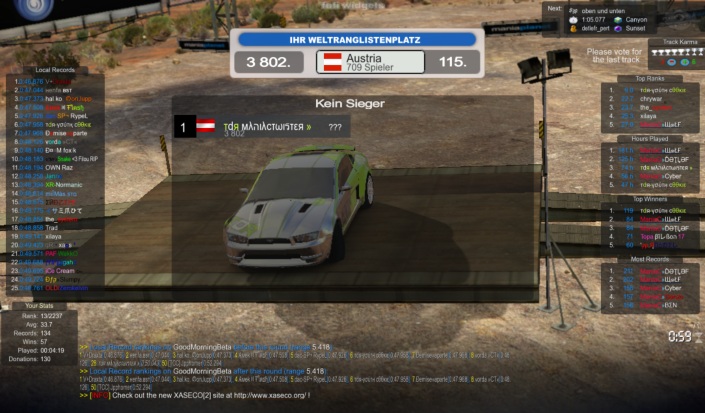 Todo
Implement the new Xaseco Panelbg Feature.
Quote of the original Post because there are no changes.
f*ckfish wrote: This plugin displays multiple graphical widgets on your server.

There are the Local Records widget, a Live Rankings widget, a Dedimania widget, a Karma widget, a Challenge widget, a Clock widget, a NextTrack widget and an Advertisement widget (most of them inspired by SATO).

The Scoreboard Lists widget is not really anything new, it was done before by

Basti504

for Aseco/RASP and

kevlarsoft

for XASECO, but I wanted to build in stuff like that since I thought of the widgets. So thanks to those two =)

Thanks a lot to Phil and Trabtown who gave the ideas and were the first to use those new styles.

Visit them at

SpeeedAddicts.com

Configuration

You can adjust the configuration in the pretty self explaining "

fufi_widgets_config.xml

".

Some more specific settings on when to show which widget on which place with which size you can find in the files "

./plugins/fufi/fufi_widgets_xaseco.xml

" and "

./plugins/fufi/fufi_widgets_aseco.xml

" (be sure to edit the one which matches your system).

You can also take a shot in pimping the graphical output by editing the XML files in the "

./plugins/fufi

" folder.

The Challenge Widget

This one replaces the original challenge info in the upper right of the screen with something more fancy =) It adds the display of a logo, the author time and if you click it it will also show gold, silver and bronze time. MX Link will follow soon.

The Local Records Widget

This one just displays the local records on your server in a defined area customized for every player individually.

The Dedimania Widget

This widget displays the current dedimania records for this challenge (requires a running "plugin.dedimania.php" with valid configuration).

The Live Rankings Widget

This widget displays the current scoreboard in the same style like the local records widget.

The Karma Widget

This one displays the track karma graphically and provides buttons to karma vote via mouse click.

The Clock Widget

It's just a clock

The Ad Widget

The new Ad widget enables you to display multiple advertisements in your HUD. You can configure them inside "

fufi_widgets_config.xml

" where you will also find useful commented sample adverts.

Basically you can display text, bik-videos, images, react on mouseover and use them to link to the external browser or the ingame manialink browser.

You can specify adverts that show up the whole time or limit them to be displayed only when racing or when the scoreboard shows up.

The NextTrack Widget

Enables you to display some information about the next track, when the scoreboard is showing.

The Scoreboard Lists Widget

Enables you to display some statistics about records and players, when the scoreboard is showing.